Description
Garage Door Exhaust Port Latching
Garage Door Exhaust Port Latching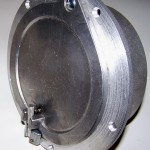 Garage Door Exhaust Port Latching
Latching Exhaust Ports
Size indicated is the Inside Diameter of the hole and thickness of the door or application.
1st, Number is inside diameter.
Gasket and hardware is included.
Very easy to install.
Good for use with cars, motorcycles, ATV's, generators
And any machine that produces exhaust.
Just run a hose (not included) from the exhaust through the port.
We also offer the NON Latching type exhaust ports – Click here –
As well as our PVC exhaust port which you can find by – Clicking here –
Please compare our total cost, we offer FREE shipping on
this and all of our items.
We do offer quantity discounts for over 10 units, email or call for a quote.
See other listing for larger and latching type quotes.
Please feel free to call or email with any questions or special needs
regarding this or any of our products.
Shipping is FREE and same or next day.
International Shipping available through our eBay store, use link on our home page.