Description
Linear, AllStar, 105453 Limit Nut
Linear, AllStar, Challenger, Wayne Dalton and other brands.
Commercial Garage Door opener limit nut.
This limit nut travels on a threaded rod and is held in place by a flanged piece of metal or a sprung wire or by other means.
One limit nut for the up and one for the down limit. These limit nuts travel on the threded rod and contact the limit switches for up and down travel of the garage door.
Good idea to wire a spare to the garage door opener.
The 105453 limit nut does differ from other limit nuts.
We carry limit nuts for Liftmaster as well.
Click the photos to enlarge.
Photo below  shows the limit assembly on a typical opener as a reference to the type of garage door or gate limit switch assembly that this type of limit nut is used.
Be careful of cross threading when installing, these are plastic and are easy to thread wrong.
Here is a hard to find part to find that will allow you to keep that older garage door or gate opener going and in service.
Fast and Free shipping 6 days a week.
For any questions or special ordering please Send us an email or call.
We are a full service garage door and garage door opener company with the knowledge and desire to help you in any type of garage door or garage door opener repair.  We ship six days a week and we stock what we sell. We only stock professional grade parts, we do not stock any knock off or cheap imitation parts.  Everything we carry is made by and for the Garage Door Industry. All of our vendors stand behind their products so if there is ever any issues with anything we carry, not only do we stand behind the product but the actual manufacture or supplier does as well. We have developed long term relationships with our vendors and we only work with vendors that we trust. We are a family company and were in it for the long haul, we sell only garage door and garage door opener parts, we are here for you before, during and after your garage door or garage door opener repair and we want your project to be a rewarding and satisfying experience 100% of the way.
Thank you for the opportunity!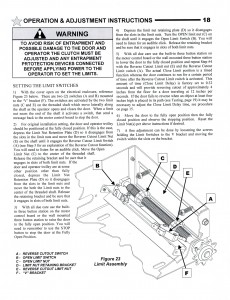 Linear, AllStar, 105453 Limit Nut