Description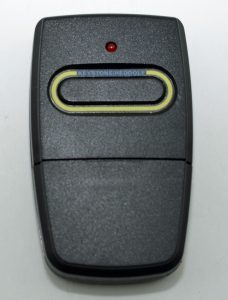 OVERHEAD DOOR REMOTE
OVERHEAD DOOR BRAND REMOTES
390MHz (109130-3901)
360MHz (109130-3601)
340MHZ (109130-3401)
ALSO AVAILABLE IN A KEY CHAIN SIZE
This is a very robust product that has very good range
A quality item made by Keystone / Heddlof
9 DIP SWITCH PROGRAMING (0 + –)
VERY EASY TO PROGRAM TO YOUR OVERHEAD DOOR BRAND
GARAGE DOOR OPENER VISOR CLIP, BATTERY & INSTRUCTIONS INCLUDED.
HOW TO DETERMINE THE CORRECT REMOTE FOR YOUR OVERHEAD DOOR BRAND GARAGE DOOR OPENER
Older OVERHEAD DOOR brand openers us the following frequencies.
312MHz – 340MHz – 360MHz – 380MHz – 390MHz
These are all dip switch remotes they are NOT " Intellacode " remotes
If you have an existing remote there may be a sticker on the back indication the frequency.
IF NOT, you will have to look inside the unit on the circuit board. To do this, UN PLUG the opener. You may need to remove the light cover. 
On most models you can hinge down the motor cover by removing the front two screws on the cover.
 There will be a sticker on the circuit board with one of the above mentioned frequencies.
You will also see a small bank of dip switches, this is the security code and your remotes dip switches must be matched to the setting on this bank of switches