Description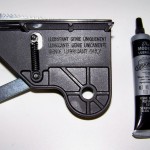 Genie / OHD Brands
# 36179R Screw Drive Carriage – WITH LUBRICANT
MUST BE LUBRICATED AT LEAST ONE TIME A YEAR
This part is listed under several part numbers, 36179R is the current number.
This carriage ( direct from Genie ) will work on all Genie screw drive openers & OHD excellerator openers.
Works with magnetic and mechanical limit switches.
VERY easy to replace – Save the cost of a service call & do it yourself.