Description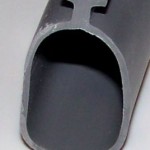 Garage Door Bottom Seal
Click the link below for an overview of garage door weather seal.
Garage Door Weather Seal Overview
T BULB Bottom Weather Seal for Garage Doors.
Single 1/4″ wide T slides into a single channel on the bottom of the garage door.
Bulb is 3/4″ wide X 1″ tall, gray in color.
Length is 2″ minimum longer than size ordered.
Can be easily cut to any length.
We have this type of seal in a larger bulb with the same 1/4″ T.
If you have an uneven floor or any other issues in getting the
garage door to seal the floor we have many options.
There are different style retainers for the bottom of the door that will accept
a wide selection of weather seal, you are not locked into using this seal
on your garage door if you have any issues in sealing the door to the floor.
Replacing the retainer will allow you to use a wide range of types and styles
of weather seal, see our store under weather seal.
The proper retainer weather seal combination will
allow you to seal any garage door to the floor.
Installs easily with two people.
One guide's seal into track and pulls, the other feeds the seal
Lightly crimp ends of track to hold in place.
Helps to completely clean the track and then apply lubricant such as WD40.
Do not stretch the weather seal tight, move it along the bottom of the door until it is not
being stressed or stretched, cut off any access and lightly crimp the ends of the channel
to hold the garage door bottom weather stripping in place.
Call or email any questions or special needs.
This and all of our products are available in bulk at substantial savings.
Call or email for quick quote.