Description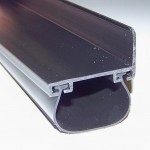 Garage Door Bottom Weather Seal Kit
Click the link below for an overview of garage door weather seal.
Garage Door Weather Seal Overview
HOW TO INSTALL THIS KIT-CLICK HERE
For 2″ thick Garage Doors
Kit includes:
54″ x 1-3/4″ X 3/4″ PVC Retainers
4″ Wide – 1/4″ T – U shaped bottom weather seal, this
is a heavy duty weather seal and is the most common type in use.
We use this same weather seal on most replacements and have it
on several of our own doors. This is a nice heavy weather seal that holds its shape well and
lasts for many years. Install it and forget it.
Self tapping stainless steel metal screws
This kit is for doors over 1-3/8″ thick up to 2″ thick.
Inside flange of retainer is secured to the door and bottom edge
is also screwed to the door. Weather seal then slides into the channels.
This retainer accepts 1/4″ T style weather seal, the most common
found on garage doors.
Retainers are square cut and butted together for a nice, professional finish.
This is the perfect solution for any type of garage door that is
currently using outdated or unavailable weather seal.
We carry many other complete kits for various size doors.
Retainers and weather seal also sold individually.
With the correct retainer and weather seal combination, we can help you
seal any garage door.
Custom retainers and bulk retainer and weather seals available.
Call or email for a quick quote.