Description
Garage Door Decorative Hardware Kit
Garage Door Decorative Hardware Kit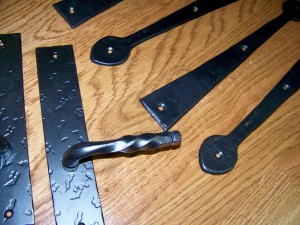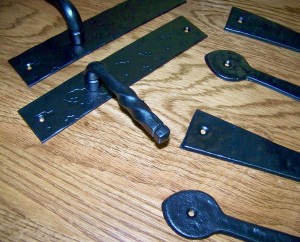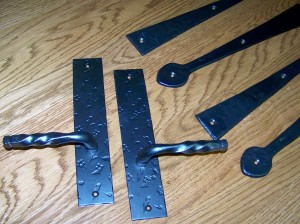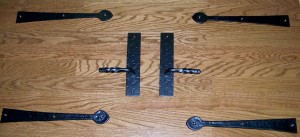 Garage Door Decorative Hardware Kit, Decorative Hinge & Handle Set.
Powder Coated Black – Hammered Finish, Looks handmade by a blacksmith.
Heavy Iron – HIGH QUALITY SET, Set weighs nearly 6 pounds!
POWDER COATED – Very distinctive.
Included in the set:
4 – Hinges
2 – Handles
Black Fasteners
HINGES:
Approx. . . .180″ ( 3/16″ ) Thick
15-3/4″ overall long
2″ Wide @ the Spear
2-1/8″ @ wide end
HANDLES:
Pull Handles
Plate is 10″ x 2″
Handle is 5″ long x 1/2″
Handles stand off door 2-1/4"
Black Fasteners included
THESE LOOK OUTSTANDING WITH STUD FASTENERS – Check out the studs here – STUD
We carry many decorative garage door parts
We are a full service garage door and garage door opener company with the knowledge and desire to help you in any type of garage door or garage door opener repair.  We ship six days a week and we stock what we sell. We only stock professional grade parts, we do not stock any knock off or cheap imitation parts.  Everything we carry is made by and for the Garage Door Industry. All of our vendors stand behind their products so if there is ever any issues with anything we carry, not only do we stand behind the product but the actual manufacture or supplier does as well. We have developed long term relationships with our vendors and we only work with vendors that we trust. We are a family company and were in it for the long haul, we sell only garage door and garage door opener parts, we are here for you before, during and after your garage door or garage door opener repair and we want your project to be a rewarding and satisfying experience 100% of the way.
Thank you for the opportunity!
Garage Door Decorative Hardware Kit