Description
Extreme heavy duty 11 Gauge hinges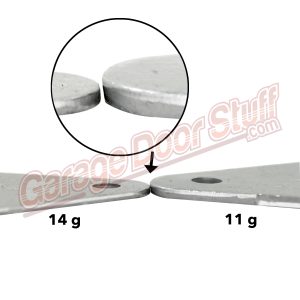 Everything you need to give your 2 wide car door a complete PROFESSIONAL tune up.
This kit is for 7′ tall doors – double wide – Four Section doors with 3 rows of center hinges. 15×7 – 16×7 and others
Over time, hinges, rollers, bearings, cables, top and bottom fixtures wear.
This kit will allow you to replace all that with better than new parts.
Hinges are 11 Gauge, Rollers are Heavy Duty 10 Ball Bearing
Your door will run better than new after installing this kit and will provide you with years of continual service.
All items in this kit are new and are the same parts we use on our doors and in the field
INCLUDED IN THIS KIT:
11 – #1 – 11 Gauge hinges
2 – #2 – 11 Gauge Hinges
2 – #3-11 Gauge Hinges
2 – Top Fixtures
10 – 10 Ball Bearing Heavy Duty Steel Rollers
1 – Can Professional Garage Door Spray Lube