Description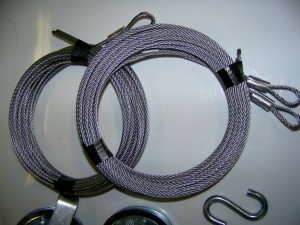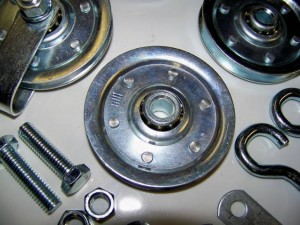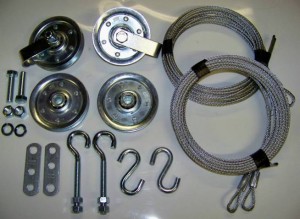 Garage Door Pulley
COMPLETE EXTENSION SPRING REPAIR KIT
Replacing the pulleys on your door will make the door run
much smoother and prevent cable wear.
Replace the door cable and install
Safety cables – SAFETY CABLES ARE A MUST.
Safety cables prevent the spring from becoming a potentially
deadly projectile in the event of spring or cable failure.
Safety cables are the only thing that will keep the fully charged spring from becoming a projectile
PLEASE-INSTALL SAFETY CABLES ON YOUR EXTENSION SPRING DOOR
6  RIVETS IN EACH BALL BEARING PULLEY
Pulleys in this kit are rated: – 100 LB @ 10,000 – 8′ Door Cycles
INCLUDED IN THIS KIT:
2 – 3″ STUD PULLEYS
2 – 3″ CLEVIS PULLEYS
4-3/8″ BOLTS
4-3/8″ NUTS
4-3/8″ LOCK WASHERS
1 PAIR-1/8″ DOOR CABLE
1 PAIR-1/8″ SAFETY CABLE
2-CABLE LACING BRACKETS
2-S HOOKS
2-5/16″ EYE BOLTS
4-5/16 NUTS
INSTRUCTION SHEET
REPLACING THE PULLEYS ON YOUR GARAGE DOOR MAKES THE WORLD OF DIFFERENCE
YOUR DOOR WILL RUN MUCH SMOOTHER. THIS IS NORMAL MAINTENANCE THAT CAN EASILY
BE DONE BY THE HOME OWNER.