Description
Garage Door Opener Hanger Kit
Install your garage door opener like the professionals do.
Material provided with the garage door opener is inadequate and will not allow you to properly mount your garage door opener.
This kit gives you everything you need to attach the garage door opener to the ceiling or structure.
Included in this kit:
4 – 24″ Long – 1-1/4″ X 1-1/4″ Punched Angle
3 – 5/16″ X 1-5/8″ Lag Bolts
7 – 5/16 Bolts
7 – 5/16 Nuts
We also offer this kit with a universal, adjustable door bracket, to see that, click here – GARAGE DOOR OPENER KIT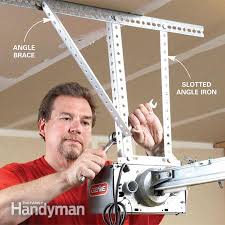 Typically the material supplied with garage door openers is light weight, flimsy and just not adequate to properly fasten the garage door opener to the ceiling. The photo above is the correct method of supporting and bracing your garage door opener. Span across the ceiling fastened to the joist, 2 drops from the span to the garage door opener and a brace placed at an angle to prevent side to side movement.  We include a 4th length of angle in case you need to extend either the drops of the span.
This method of installing your garage door opener will keep the opener in place and prevent it from flexing and moving. Movement and flex can cause issues, primarily wear of the drive mechanism.  All of the parts associated with the drive can be effected by movement of the garage door opener, regardless is the opener is chain, screw or belt drive. Wear to the carriage and associated parts and the chain, screw or belt is often caused by an incorrectly installed or supported garage door opener. A properly installed and supported garage door opener will increase the life span of the garage door considerably. It is well worth the additional cost and effort to install the opener correctly and if it is already installed with thin and flimsy materials to replace them.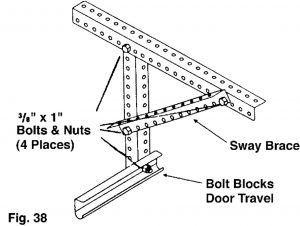 Garage Door Opener Hanger Kit