Description
CAUTION: Repairing a garage door is a dangerous task. Garage door springs are under extreme tension and require appropriate safety precautions. Realize and understand the risks before undertaking any repair. Your health and safety is the #1 concern. No amount of financial savings is worth jeopardizing your health. Working on or around garage doors and openers could result in property damage, personal injury or death. While all efforts are made to provide accurate information and guidance, it is impossible to predict all repair circumstances. Accordingly, the user agrees that use of all products and information contained herein are at your own risk. In no event shall GARAGE DOOR STUFF .COM or Unique Repair & Supply be liable for any property damage, personal injury/death, or any other loss or damage that may result from your use of the information and products provided on this site. All information contained within this site is provided "as-is" without warranty expressed or implied. User assumes all responsibility/risk for use of information and products purchased.
Determining the correct spring for your door can be done one of several ways.
1 – Extension springs are color coated, see the chart below and order accordingly.
2 – Weigh the door. For a single car door place a bath scale in the center of the opening, remove all spring tension from the door and lower the door onto the scale. For a double door use two bath scales, a foot in from each side of the opening. Over time doors pick up weight, paint and moisture can add significantly to the overall weight of the door, weighing the door is the ONLY way to be positive of the proper springs required. However, great care must be taken when weighing the door. Total door weight indicates the springs you will need, for example, if the door weighs 100 pounds, you need two 100 pound springs, one on each side. When using two scales, add the weights together for the total door weight.
DOOR MUST BE IN THE FULLY OPEN POSITION TO REMOVE THE TENSION. RAISE DOOR & PUT VISE GRIPS ON THE TRACK UNDER THE BOTTOM ROLLERS (BOTH SIDES OF THE DOOR) – REMOVE SPRING TENSION. ON A SINGLE CAR DOOR TWO PEOPLE CAN LOWER THE DOOR ONTO THE SCALE –TWO CAR DOORS WILL REQUIRE COME ALONGS TO LOWER THE DOOR – ONE ON EACH SIDE.
BEWARE OF PICH POINTS WHEN LOWERING DOOR ONTO SCALE.
GARAGE DOORS ARE HEAVY! TAKE NECASSARY PRECAUTIONS!
STAGE CLAMPS ON DOOR TRACKS TO CATCH DOOR IF IT GETS AWAY FROM YOU.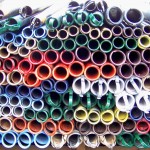 DASMA OFFICIAL COLOR CODES
EXTENSION SPRINGS

#10

WHITE

#20

GREEN

#30

YELLOW

#40

BLUE

#50

RED

#60

BROWN

#70

ORANGE

#80

GOLD

#90

LT.BLUE

#100

TAN

#110

WHITE

#120

GREEN
#130
YELLOW
#140
BLUE
#150
RED
#160
BROWN
#170
ORANGE
#180
GOLD
#190
LT. BLUE
#200
TAN
#210
WHITE
#220
GREEN
#230
YELLOW
#240
BLUE
#250
RED
#260
BROWN
#270
ORANGE
#280
GOLD
#290
LT. BLUE
#300
TAN